I have been hard at work getting the nursery ready for little baby Rasmussen. It has easily been one of my favorite parts of this pregnancy, dreaming up the design and feel and then little by little, piece by piece, watching that vision in my head come to fruition! My dream for the nursery was a space that is cute enough for a baby, but also mature enough to not have to do an entire overhaul on the nursery when my little baby starts to grow into a big boy. When I was creating the nursery, I wasn't drawn to any certain themes, and I wanted to avoid the cartoonish bedding/decor sets that are in all the big box stores like Target and Babies R Us, so I chose a color palate, and then started looking for decor that would work together and symbolize who Ronnie and I are as a couple and baby's parents, as well as what we wish, hope and pray that his life holds for him.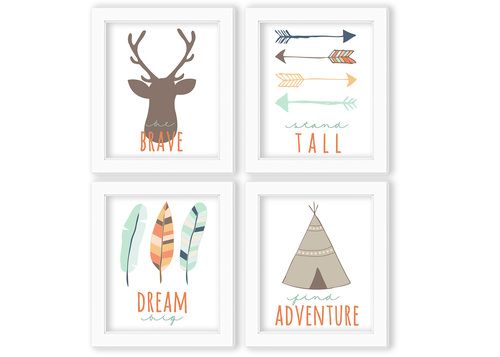 When I came across these prints on Pinterest, I pinned them immediately. At that point, I didn't know if I was having a boy or a girl, but I knew that if it was a boy, these prints had to go in the nursery. Be Brave, Dream Big, Stand Tall and Find Adventure. This is my hope and prayer for my son, and once I found out that indeed I was carrying a son, I got to work on my nursery inspiration board and loved how well the colors of the prints complemented the navy and grey color scheme I'd chosen for the nursery. Here is a little sneak peak of one corner of the nursery, and I can't wait to show the rest of it to you guys soon!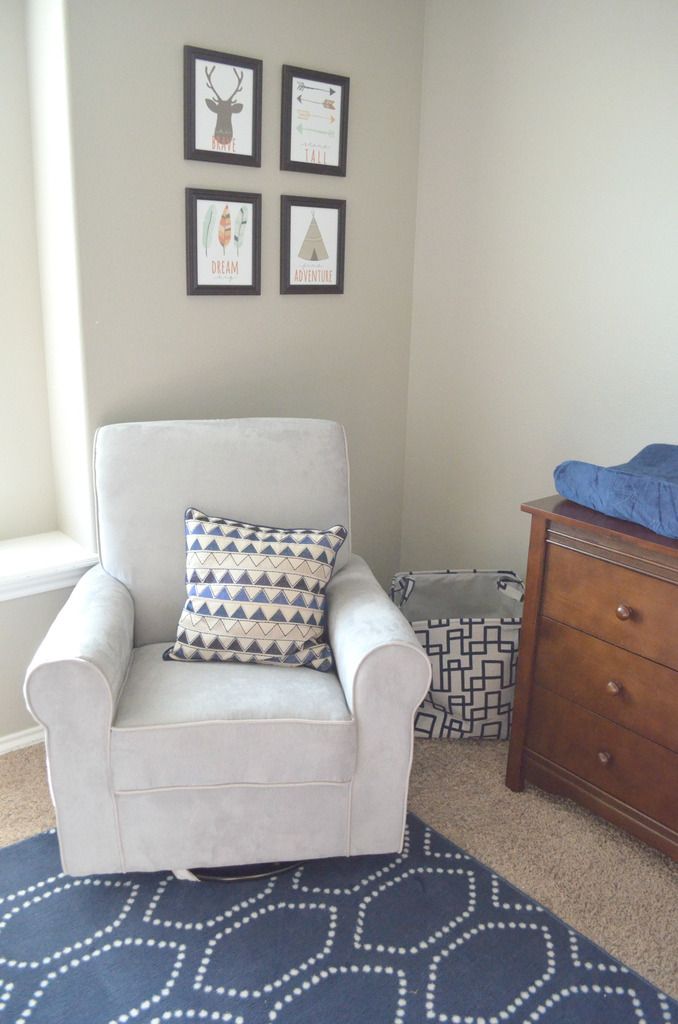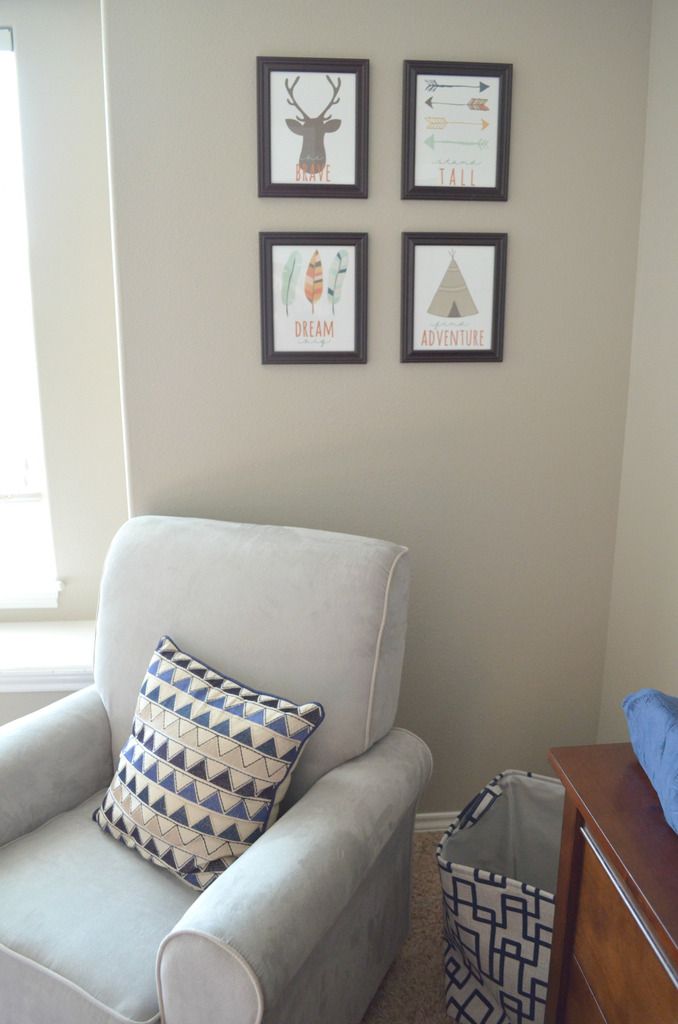 The designer of these prints, Sammiey from West Ember Studio sent me the kindest email back in January, thanking me for including her shop in my Nursery Inspiration Post, and instantly, we clicked. Sammiey is easily one of the kindest people I've come across in this blog world. Sammiey is a talented designer and photographer, and when she was pregnant with her second baby, one of her friends pinned the tribal print set, and it went viral and her little Etsy shop took off and her business grew. It allowed her to quit her job at a bank to stay home with her little ones and start her photography business in Washington. All of the proceeds from her shop go to allowing her to stay at home and be with her babies and THAT is something I am so thrilled to be able to help support.
I can't wait to show you more of the nursery in the next few weeks. Stay tuned for a full nursery reveal. Until then, go check out West Ember Studio and browse all the amazing products she has. Sammiey has generously offered to giveaway one 8x10 print of your choosing. Entering is super easy with minimal entries, so make sure you go visit West Ember Studios and find a great print for your home, nursery or office! Use code HELLOEMBER for 10% off your order to celebrate her new website's grand opening.
a Rafflecopter giveaway
And because Ollie, the diva of the house can't let me take a single blog picture without getting in the picture, here you go. Even he approves of the new prints in the nursery. He is 100% convinced the nursery is his room and that I've been furiously designing and decorating it for his enjoyment. He is going to be in for a rude awakening in a few short weeks!