I am so excited to share with you what I have been working on for the past almost NINE months! A couple weeks ago I shared the Nursery Sneak Peek, and now the nursery is finally done and I am basically satisfied with it, aside from a few minor details I may adjust (like the shelf above the changing table).
I really never had a certain "theme" I wanted to decorate the nursery in. I scoured Pinterest, stalked other blogger's nursery reveals, and paid attention to what caught my eye and I settled on a navy blue, grey, and white theme with dark furniture, and I wanted this little guy's nursery to reflect some overall words and ideas to live by. I also knew that the room wasn't big by any means, so I didn't want to overwhelm the small space with too much clutter and busyness and did my best to keep it somewhat simple + peaceful for a little one.
After we painted the wall (okay, we hired someone to paint it because neither of us is as meticulous or patient as you have to be to have perfect stripes on a wall) the first thing I bought for the nursery was the big, gorgeous BRAVE sign from
House of Belonging
. I was drawn to the wood sign because it was exactly what I want for my little boy. To be brave, even when he's afraid. To be courageous, even when the world is dark. For him to bravely be himself in a world that pushes us to bend to others ideas and expectations. For him to boldly and bravely pursue Christ, living a life that glorifies Him.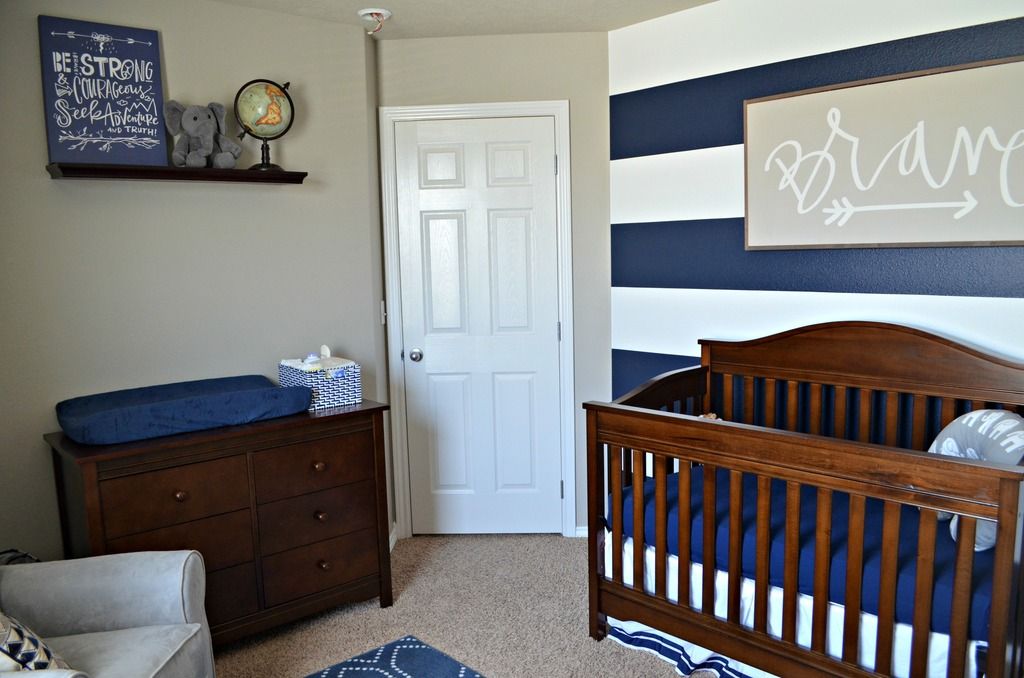 I happen to absolutely adore the women behind
House of Belonging
. It is a custom, hand-crafted shop and each piece is created with love, custom made and unique. The owner of the shop is one of the most inspiring women I've had the pleasure of meeting, and her daughter does the design work of the gorgeous pieces. I am constantly inspired and encouraged by Tiffini on their
Instagram
account, her faith and love for Jesus is written all over her words and her work. I had a hard time just ordering one sign, and I came really close to ordering this
Peter Pan piece
for the nursery, as well as this the
Romans 12:12 piece
for my living room but my lack of wall space + budget forced me to reign myself in!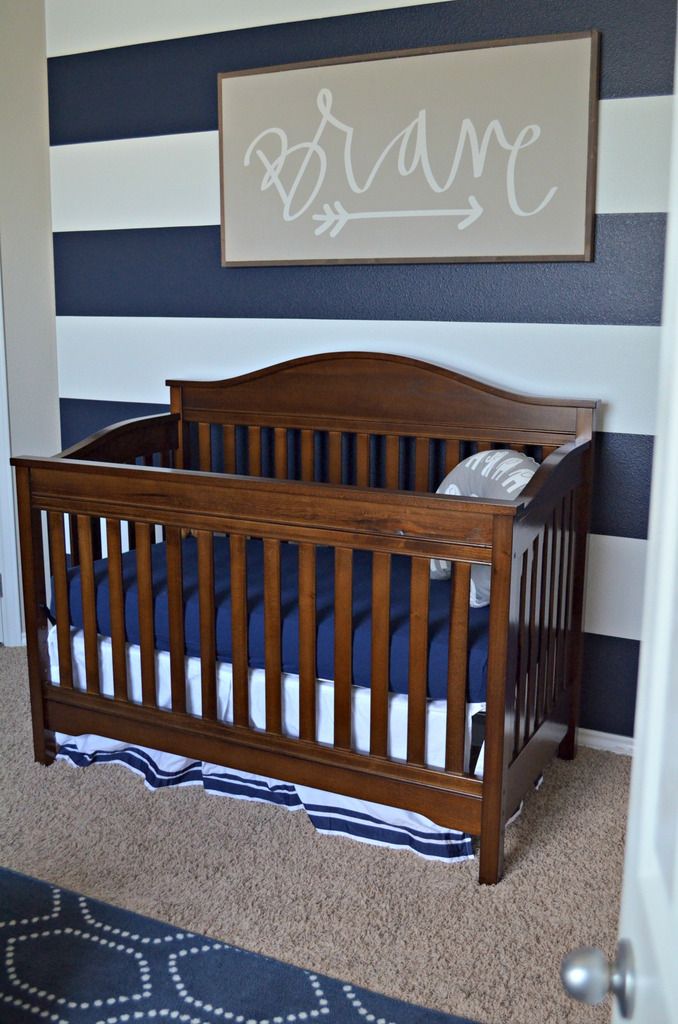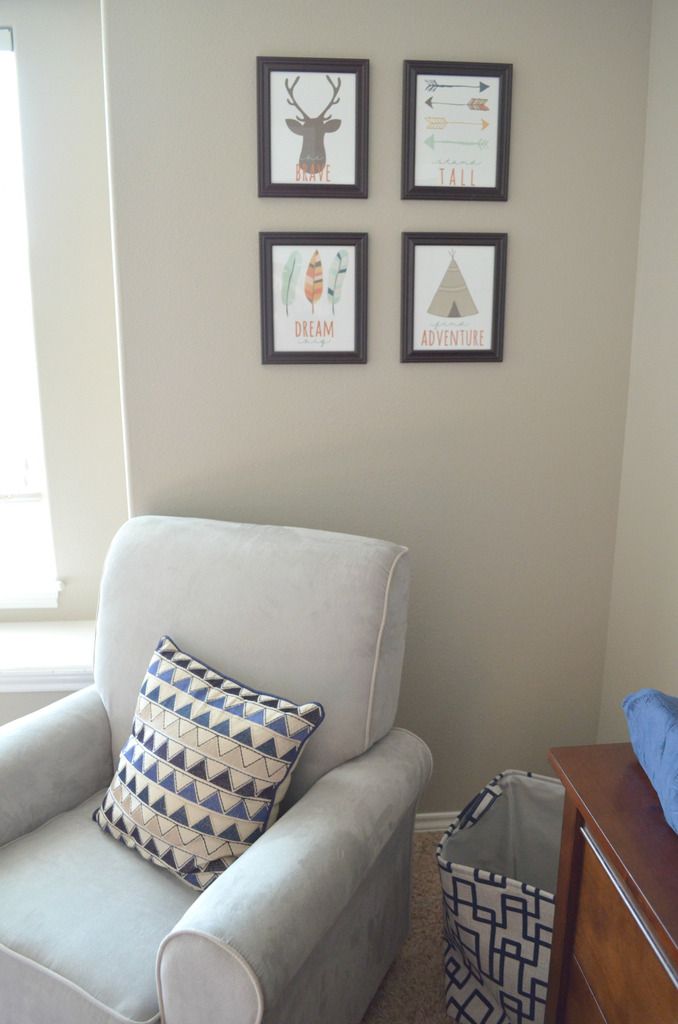 Once I had the sign as the central focal piece in the room, I easily started collecting other pieces of decor that fit in, like the Be Strong and Courageous sign designed by Lindsay's Letters, the globe + world map, the tribal prints from
West Ember Studio
. The ottoman pictured here was one of the most difficult pieces to find, and is actually the second one I purchased. I bought one and didn't love it and then when I saw this little floor poof at TJ Maxx, I snagged it and returned the first one.
Ironically, the day after I took these pictures, I found the most perfect navy blue side table + gray and white lamp for the nursery. I had been looking for what felt like forever for a small side table that wasnt too big and was the right color for the area that I basically gave up and told myself I would just put a lamp on the window seal if I needed a lamp for nursing in the middle of the night. Of course, I found the perfect pieces (ON SALE) right after I gave up, right? It turns out that photographing the nursery is no easy task because A. the room is pretty small, and B. the lighting has to be just right because of the way it comes in through the big window and creates terrible shadows for pictures. Being 9+ months pregnant, I couldn't find the energy or motivation for retaking, re-editing, and resizing all of these pictures so you just have to take my word for it that the table and lamp are a great addition to the room.
His closet is still somewhat of a work in progress, but all the cubbies + baskets makes my organized, type A personality go all heart eyed. In the lower baskets I have one bin with bibs, one with toys, one with shoes, and one with swaddle blankets. In the blue bins on the top shelf, I have six month and up sized clothes, extra diapers/wipes, winter/other off season stuff, etc. I am so in love with kids books and have to refrain myself from buying a new book every time I walk into any store so I know that the shelf with the moccasins will eventually have more books in it, but it looked silly empty so the
Freshly Picked
Moccasins got their own cubby for now.
Thats his nursery in all its glory-now all we need is a BABY! If you're looking for gorgeous wall decor for a nursery or maybe even for a master bedroom or your living room, go check out
House of Belonging
. They've generously offered to give my readers a special deal-15% off any sign in their shop with code CHOOSELOVE15! Check them out on
Etsy
+
Instagram
if you love gorgeous pictures of beautifully designed and decorated spaces with encouraging and inspiring words. If you're like me, you'll find at least three things you need for your home within five minutes!
Also, if you're interested in knowing where I got any of the products a good first guess is Target (all the big furniture + the rug) but feel free to ask me in a comment and I'll happily tell you! Again, the amount of time + energy to list every thing in the pictures seemed too overwhelming but if you have specific questions, definitely ask!