Monday is here, and that means its time for another Get Fit & Fab Weekly Linkup!
I just got back from a girls weekend away to Salt Lake City.
Karissa
and I attended the Build Your Blog Conference and made a whole weekend out of it. We stayed in downtown Salt Lake, and I personally definitely indulged more than I should have. Lattes every morning, cookies with lunch, cheesecake at dinner, etc. It was so delicious, and I definitely don't regret it, but I do need to make sure that I get right back on the healthy eating and regular exercise train!
It can be a dangerous trap, at least for me once I start not being cautious about the food I am eating. I quickly can send myself into an all out week long binge, and just eat whatever I want. I have found myself thinking "I've already blown it this weekend, might as well start tomorrow." And then that tomorrow comes, and I don't make a healthy choice in the morning, and I think "I've blown today's eating, so I'll start tomorrow."
If you've found yourself doing that too, then read on! Today I am just going to share with you how I "reset" after a weekend of eating too much junk and too much laying around.
1. Make a plan for eating.
Last night, I made salads for the entire week so I don't even have to think about what to eat for lunch. I defrosted chicken so its ready to go in the evening. I wrote out a couple of meals I want to make, and Ronnie is picking up the ingredients. I am going to throw a healthy White Chicken Chili in the crockpot tonight, so tomorrow morning I can turn it on and have it ready for dinner and eat the left overs for lunch. Trying to wing it after being out of town all weekend is a recipe for failure!
2. Drink a ton of water.
I can't believe how much processed food affects my body now that I am so used to eating healthy. Karissa told me she was affected by too much sodium, and when we woke up after indulging in lots of salty meals Saturday morning, both of our hands were swollen and you could see the indents from our rings. To offset all the sodium and other preservatives, I am going to try and double my normal water intake to flush my system.
3. Cleanse your body.
I don't mean do a nasty cayenne pepper lemon water type of cleanse, but for me I try and just eat either foods that once walked (chicken, turkey, etc) or that grew from the ground (fruits and veggies). I did this my last week of the DietBet and felt like a new person! I really think this, along with a lot of water, kind of resets your body and flushes out all the crap.
4. Schedule your workouts.
I found that for me, working out on my lunch is best for me, but I also need to have a plan. If I am running outside tomorrow, that means I need to pack a bag with warm things like gloves and a hat and charge my Garmin. If I am going to the gym, I need to make sure I have the right things for an indoor workout, and know what workout I am doing. Sometimes, I need to watch videos of certain moves so I can get in and out of there efficiently.
5. Give yourself some grace.
Remember why you're eating healthy and working out. For me, I would love to lose the pounds I gained after being on the steroids for my Rheumatoid Arthritis, and I'd love to fit back in my smallest pants. But more than that, I really like the way eating right and working out makes me feel. I feel better physically, my anxiety is significantly lessened, and I feel more clear headed. But I am not going to swear off Cheesecake forever, so its okay to let yourself splurge a little. Just make sure you don't let one cheat meal/day/weekend throw your entire week or month off. Get right back on track and you can still accomplish those goals!
How was your week ladies? What are your goals for this next week? I also want to give a HUGE shoutout to my friend Codi from
Art Of Balance
for reaching her goal last week of working out SIX DAYS! That is so impressive, I'm definitely inspired by her dedication!
This link-up will happen
every Monday
, but it is absolutely not necessary that you join in every single week (although we'd love to have you!) Get Fit, Feel Confident, Be Healthy is all about ANYTHING having to do with your journey to a more fit, fabulous, and healthy you in 2014!
This can be:
Your goals
A recaps of how you did the week before
Your new favorite workout songs
A salad you made for dinner that was healthy and delicious
Something you struggled with last week
Ways you've been able to successfully relieve stress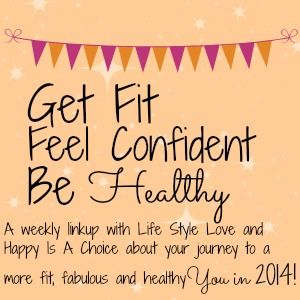 Will you please join in the fun with us?! Here's what you need to do:
1. Follow us on Bloglovin (Brittany and Sam) or GFC. Leave us a comment letting us know so that we can follow you back!
2. Write your Get Fit, Feel Confident, Be Healthy post on Monday. Link-up at one of our blogs!
3. Grab a button (above) and link back to our blogs in your post.
4. Meet new friends who are on a similar journey as you! One of the best parts of this link-up will be meeting other ladies who are sharing their ideas and stories so make sure you check out the other fit+fab women who are linking up!
Use the hashtag #getfitandfab - tag us on instagram and twitter so we can follow you on your journey!
Instagram: @brittmrasmussen and @samanthamarie_8
Twitter: @brit_rasmussen and @samanthamarie_8