Its Week 8 of this linkup-who is feeling fit and fabulous? I know I've made some great progress the last eight weeks, but I still have a long way to go! How has your journey been? I'd love to hear about the ups and downs and what is working for you!
I read once that everyone has a natural "best" time of day to workout. As much as I've tried, I never could make myself into a morning runner. I ran one summer every morning, but I didn't start class til 10 so I usually woke up between 7:30 and 8:00 and ran. Sadly, the days of being a college student and having zero commitments before 10:00 AM are over and now, I wake up at 5:30 to be at work by 7. Morning workouts don't happen for me.
Evening workouts don't happen for me either, but only because A) I am beat after work and feel like doing nothing but laying on my couch and B) in the winter it is dark and cold shortly after I get home.
I have always loved working out at lunch. When I was a nanny, I ran with a girlfriend on her lunch everyday and we just bundled the baby up in the strolled and off we went. Lucky for me, there is a trail just behind my office that is perfect for running. I've made working out at lunch a routine and try to do it at a minimum of three or four days a week. Sometimes I really just want to curl up in the Coffee Shop next door with a book, and I do that occasionally.
It is definitely a little strange, changing my clothes at lunch time and walking through our office hallways in my running gear. I get weird looks, but it works for me. I don't have to wake up early and by the time I get off work, I can rest knowing its DONE.
I pack my gym bag with all the essentials. I don't shower after, which is gross sounding, but I towel off, put on deodorant, spray a little perfume, brush my hair, touch up my makeup, and I am good to go. No one seriously knows any different.I also typically run for about 30 minutes. This gives me five minutes to change before, five minutes to warm up/walk to the trail, 30 to run, and then the other 20 to get dressed and eat my lunch real fast.
You don't need a trail to run at work. You can literally put on some running shoes and just start jogging down the street! When it warms up, I am going to drive to the foothills a couple days a week after work because I am craving a good trail run in the hills. If you are new to running and don't know how to start, I recommend the Couch to 5k program! It is a really great beginning running training guide!
This link-up will happen
every Monday
, but it is absolutely not necessary that you join in every single week (although we'd love to have you!) Get Fit, Feel Confident, Be Healthy is all about ANYTHING having to do with your journey to a more fit, fabulous, and healthy you in 2014!
This can be:
Your goals
A recaps of how you did the week before
Your new favorite workout songs
A salad you made for dinner that was healthy and delicious
Something you struggled with last week
Ways you've been able to successfully relieve stress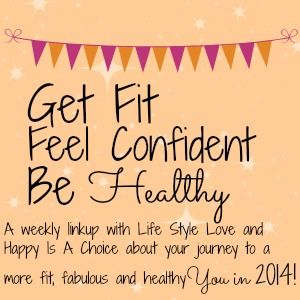 Will you please join in the fun with us?! Here's what you need to do:
1. Follow us on Bloglovin (Brittany and Sam) or GFC. Leave us a comment letting us know so that we can follow you back!
2. Write your Get Fit, Feel Confident, Be Healthy post on Monday. Link-up at one of our blogs!
3. Grab a button (above) and link back to our blogs in your post.
4. Meet new friends who are on a similar journey as you! One of the best parts of this link-up will be meeting other ladies who are sharing their ideas and stories so make sure you check out the other fit+fab women who are linking up!
Use the hashtag #getfitandfab - tag us on instagram and twitter so we can follow you on your journey!
Instagram: @brittmrasmussen and @samanthamarie_8
Twitter: @brit_rasmussen and @samanthamarie_8
Some housekeeping: This is going to be our last linkup of Get Fit and Fab for a few months. We are thinking that it would be great to come back and check in with everyone in May. I am hoping to be able to come back in May and show you guys how awesome I look in a bikini by then. We love hearing how everyone is doing, and what is working for you, but want to give the linkup a little break and come back with some more long term results! Stay tuned for more info about the next date for the linkup. Thank you to all of you who have participated in it, it has been SO fun and we're so glad to have had you play along!
Good luck to all of you in your goals, and don't give up on them! If you've fallen off the wagon, today is as good of day as any to start back up!