Hi friends, Happy Monday! Who's weekend just FLEW by like mine did? So sad how quickly the weekends go and how slowwwww work weeks go. This week is going to be a busy one for us, tonight we have our biweekly dinner club at my bestie Karissa's house, and on Friday I am leaving for Winter Camp for the Youth Group I lead in.
So, its been two weeks of working on eating healthy, and staying active. Week two was good, but not perfect. I didn't run or workout Saturday or Sunday like I had planned, and also we totally caved Friday night and had Chick-Fil-A . Oops.
As far as the scale, I didn't lose anything this week. I feel frustrated by it, but I also know the older I get the harder it is for pounds to come off. In my early twenties, I could just switch one meal a day out for a salad and would be down 5 pounds in a week. Thats obviously not the case anymore.
Todaay, I just want so share some of our favorite meals that are both healthy, and also delicious. You won't find me eating chicken breaast and broccoli five nights a week when I am trying to lose weight, because that is not sustainable for the long haul. I like to eat, and I also do not like to spend hours upon hours in the kitchen. All of these meals are good for you, plus pretty easy to prepare.
Breakfasts
1. Kashi Whole Grain Waffles + a piece of fruit
2. "Kind" Granola bars + a banana
3. Smoothies-I like mixing organges, pineapples, peaches and bananas. I also like the mixed berry smoothies with a small handful of spinach for extra nutrients. We use a lot of frozen fruit for convince.
Lunches
(For lunch I usually do leftovers from what I made at dinner the night before)
1. A big salad full of vegetables. I like red onion, bell peppers, and cucumbers personally! I use a basaltic vinaigrette usually
2. I also eat a lot of the Wolfgang Puck Organic Soups-my favorite is the Chicken and Dumpling
Dinners
2.
Taco Soup
(We swapped the ground beef for ground turkey instead)
4. Spagetti Squash Spagetti
5. Fajitta Quinoa Bowls
For the Spaghetti Squash:
1. Slice Spaghetti Squash in half, length wise
2. Scoop out seeds in the middle
3. Stab the outside of the two halves with a fork a few times so it can breath
4. Cook both the halves of the squash flat side down for an hour at 400 degrees
5. When it comes out, shred the inside with a fork length wise-it'll look like noodles
6. Serve with Spaghetti Sauce and cooked ground turkey
For the Fajita Bowls:
1. Cook 2 cups of Quinoa
2. Cook sliced Chicken on the stove top, add in bell peppers and onions when chicken is almost done
3. Add a packet of fajita seasoning + the amount of water required on the package of seasoning
4. Add chicken and veggies over a bowl of quinoa
5. Add your favorite toppings-we like Plain Greek Yogurt in place of Sour Cream, Salsa, and Shredded Cheese.
If you have any questions about any of the recipes, please let me know! I'm happy to share with you guys!Today I have a run planned at lunch-it snowed and was icy most of last week, so I was stuck inside on the dread mill. I can't wait to get back outside!
How was your week? Did you accomplish any of your goals, see the scale drop? Are your pants fitting better, do you have more energy? If you didn't see any tangible results on the scale, keep pushing through! Even contestants on the bigger loser had weeks where they saw a 0!
This link-up will happen
every Monday
, but it is absolutely not necessary that you join in every single week (although we'd love to have you!) Get Fit, Feel Confident, Be Healthy is all about ANYTHING having to do with your journey to a more fit, fabulous, and healthy you in 2014!
This can be:
Your goals
A recaps of how you did the week before
Your new favorite workout songs
A salad you made for dinner that was healthy and delicious
Something you struggled with last week
Ways you've been able to successfully relieve stress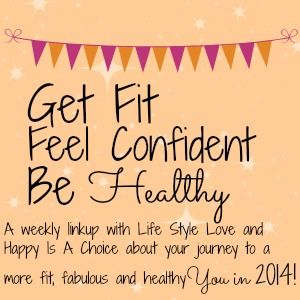 Will you please join in the fun with us?! Here's what you need to do:
1. Follow us on Bloglovin (Brittany and Sam) or GFC. Leave us a comment letting us know so that we can follow you back!
2. Write your Get Fit, Feel Confident, Be Healthy post on Monday. Link-up at one of our blogs!
3. Grab a button (above) and link back to our blogs in your post.
4. Meet new friends who are on a similar journey as you! One of the best parts of this link-up will be meeting other ladies who are sharing their ideas and stories so make sure you check out the other fit+fab women who are linking up!
Use the hashtag #getfitandfab - tag us on instagram and twitter so we can follow you on your journey!
Instagram: @brittmrasmussen and @samanthamarie_8
Twitter: @brit_rasmussen and @samanthamarie_8