Winter TOTALLY kills my running mojo. When the weather drops to a temperature ending in "teens" you will not find me running outside. Luckily this past week was unusually warm for mid January, so I was able to get a couple nice runs in outside.
But, when the weather is crappy, sometimes us runners are forced to run inside. On the dread mill. So for this week's linkup, I thought I'd share some tips to how to survive a treadmill workout.
Things that I use to cope and not die of boredom.
1.
Music
-I HAVE to switch up my running playlist quite often, or else I get really burnt out on songs I've listened to over and over again. Sometimes I get downright hostile feelings towards certain songs, like HOW DARE YOU come on mid run AGAIN? Never mind that I added that sogn to the playlist and didnd't bother to remove it for months, I just snap. Like when you find a breakfast you love, eat it for 25 days straight and on the 26th day, you never want to see or smell or taste that breakfast again? That's how I get with songs.
With that being said, here are some current songs that are on my playlist:
1. Roar 2. Mirrors by Justin Timberlake 3. Toxic –Britney Spears 4. Counting Stars-OneRepublic
That's not a lot of songs…do you have any recommendations of GREAT running songs I can add to my list? HELP A GIRL OUT.
2.
Speedwork-
The one thing that gets me through a treadmill run is some time of speedwork. Speedwork where I can break my run up in small increments and keep myself from dying of boredom.
Some recent speedwork workouts I've done:
Jog a few minutes to warm up All out SPRINT for 20 seconds (For me this is at 8.5 speed level, for you, it might be a 10 or even a 7. Whatever is your SPRINT, sprint there.)
Hop off the treadmill for 30 seconds-theres no time for lowering the speed, then pushing it back up. That takes way too much time. Hop off when its time to rest, hop back on when its time to sprint.
I do that for about 5 minutes, then I either walk (if I am dying) or jog slowly for 5 minutes, and repeat the sprint cycle.
Another Speedwork Workout :
Longer intervals of fast running (Think ¼ of a mile or a ½ mile) –this is not sprinting, its just faster than your usual pace. Like, if a comfortable pace for you is 6 on the treadmill, bump it to 6.5 or so.
Then jog at your usual pace for the same amount of miles. So, if you ran at a 6.5 for ¼ a mile, "cool down" by jogging at a 6 for a ¼ mile.
Then repeat. Over and over for however many miles you wish to go, or length of time.
3.
Play games (in your head) with other gym patrons.
My personal favorite is to assess all the people running on the treadmill around me, and convince myself I have to "beat them" one by one. Beating them to me is just refusing to walk/stop before they do. HA. Doesn't matter if this person has been running 45 minutes before I start, if they take a walk break or get off the treadmill before I do, I count them as one person beat. Its weird, I know, but desperate times call for desperate measure. I like when the gym is busy and theres a lot of runners and I count how many I beat. Another game I play is I make up stories about people. I make up imaginary lives and imagine what they do for a living, what kind of homes and cars they live in, sometimes if someone is really fit and inshape I make up a imaginary life where they were really overweight and have dedicated themselves to the gym and lost it all and blah blah blah. Its weird, but it keeps me from DYING of boredom, okay.
4.
Watch a TV episode or Movie on your Ipad/Kindle/Phone/Gym TV.
I load things on my Kindle like episdoes of my favorite shows sometimes if I have a longer run planned. This is always a good trick.
Do you have any other tips/tricks you can share with me on how to not die from boredom when you're stuck inside on the treadmill?
This link-up will happen
every Monday
, but it is absolutely not necessary that you join in every single week (although we'd love to have you!) Get Fit, Feel Confident, Be Healthy is all about ANYTHING having to do with your journey to a more fit, fabulous, and healthy you in 2014!
This can be:
Your goals
A recaps of how you did the week before
Your new favorite workout songs
A salad you made for dinner that was healthy and delicious
Something you struggled with last week
Ways you've been able to successfully relieve stress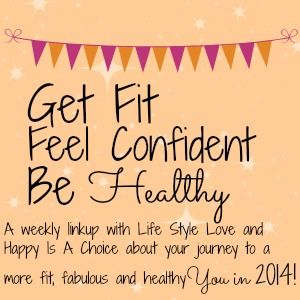 Will you please join in the fun with us?! Here's what you need to do:
1. Follow us on Bloglovin (Brittany and Sam) or GFC. Leave us a comment letting us know so that we can follow you back!
2. Write your Get Fit, Feel Confident, Be Healthy post on Monday. Link-up at one of our blogs!
3. Grab a button (above) and link back to our blogs in your post.
4. Meet new friends who are on a similar journey as you! One of the best parts of this link-up will be meeting other ladies who are sharing their ideas and stories so make sure you check out the other fit+fab women who are linking up!
Use the hashtag #getfitandfab - tag us on instagram and twitter so we can follow you on your journey!
Instagram: @brittmrasmussen and @samanthamarie_8
Twitter: @brit_rasmussen and @samanthamarie_8