Hi ladies! It is Monday, and time for our first weekly Get Fit, Feel Confident, Be Healthy Linkup!
One of my goals for the New Year is to finally shed the extra pounds I've packed on in the last year. In October of 2011, I was put on Prednisone when I first started experiencing symptoms of Rheumatoid Arthritis. I was on the steroids until about March of 2012 and in that time, I gained at least 10 pounds. I would like to blame all my weight gain on Prednisone, but lets be real here. I did not drop those ten pounds after going off it, but somewhere it the recent months, I gained at least another 5.
I stepped on the scale on New Years Day to weigh in for the Diet Bet I joined. The Diet Bet works like this: I bet $25 dollars I would lose 4% of my weight in a month. About 40 other people also bet the same amount, and whoever DOES lose that 4% at the end of the month splits the pot. The money is a huge incentive for me to lose the weight. Even if I just get my $25 back, I will also be 5 pounds lighter and that is a good first step in the direction I want to be.
Weigh In:
This Week: -.5 pounds
Total Weight Loss: -.5 Pounds
Goal for January: -5.5 pounds
Food Diary:
Monday: Italian Chili
Tuesday: Turkey Spinach Meatloaf
Wednesday: I have no idea, because I know we didn't eat what was on the meal plan for this day. Oops.
Thursday: BBQ Chicken Salad
Friday: Stuffed Peppers
Saturday: Fiesta Chicken Salad at Applebees
Sunday: Taco Soup
I had the intention of sharing what I ate + the workouts I did last week with you today, but I over estimated my ability to remember all those details, and can't exactly remember my meals every day.
For breakfasts I either had a Kashi Whole Grain Waffle or just fruit and a Kind granola bar. I attempted to drink more water each day, and had fruit and veggies with hummus as a snack. At night, when I craved desert I cut up apples and microwaved them with a tiny bit of brown sugar or honey and cinnamon. It seriously helped cure my craving for sweets SO much. We also made fruit smoothies on Saturday which kept me really full for most of the day.
Workouts:
Monday: Weight Training at the gym
Tuesday: Skipped my workout, oops :)
Wednesday: 30 minute run (And Ronnie came with me! Loved that!)
Thursday: 25 minute run on a snowy/icy trail-more like a run/walk
Friday: 20 Minute HIIT Treadmill Speed Work + Lunges and Squats at the Gym
Saturday: Too sore to move my legs
Sunday: Skipped my workout because I was feeling really icky
My goals for this upcoming week:
1. Write down all my food intake
2. Run at least 3x
3. Lift weights at least 3x
4. Lose at least 1 pound
5. Drink at least 4 big bottles of water per day
If you are also working towards a fitter, healthier, more FABULOUS you, please grab this button, follow your hosts, and link up with us! Tell us how you're doing, what is working, what isn't working, the progress you're making, new healthy recipe ideas, etc. We are looking forward to being in community with other girls who are on this journey of a healthier YOU in 2014!
Brittany from Happy is a Choice Sam from Life Style Love
Contact via blog, e-mail or twitter! Contact via blog, e-mail or twitter!
This link-up will happen
every Monday
, but it is absolutely not necessary that you join in every single week (although we'd love to have you!) Get Fit, Feel Confident, Be Healthy is all about ANYTHING having to do with your journey to a more fit, fabulous, and healthy you in 2014!
This can be:
Your goals
A recaps of how you did the week before
Your new favorite workout songs
A salad you made for dinner that was healthy and delicious
Something you struggled with last week
Ways you've been able to successfully relieve stress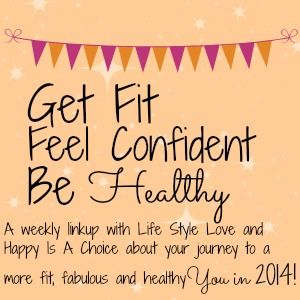 Will you please join in the fun with us?! Here's what you need to do:
1. Follow us on Bloglovin (Brittany and Sam) or GFC. Leave us a comment letting us know so that we can follow you back!
2. Write your Get Fit, Feel Confident, Be Healthy post on Monday. Link-up at one of our blogs!
3. Grab a button (above) and link back to our blogs in your post.
4. Meet new friends who are on a similar journey as you! One of the best parts of this link-up will be meeting other ladies who are sharing their ideas and stories so make sure you check out the other fit+fab women who are linking up!
Use the hashtag #getfitandfab - tag us on instagram and twitter so we can follow you on your journey!
Instagram: @brittmrasmussen and @samanthamarie_8
Twitter: @brit_rasmussen and @samanthamarie_8