This week I want to talk about those weeks that I think we all have when we're on the weight loss journey. The weeks where you step on the scale and not only does it not go down, it even goes up. The nights where you are so tired you can't imagine cooking, so you grab Chipotle before running off to Youth Group. The cold dreary days where the last place you want to be at lunch time is running outside. The days where you wake up and try that old pair of pants on hoping it might just fit after trying so hard for a month, and you still can't get them zipped.
That was my week. And it is discouraging and frustrating and it plain sucks sometimes. But, its real life. A journey to healthy is much like life. Its raw and real and sometimes its just hard. Sometimes its hard to chose to prepare healthy lunches instead of just grab Wendy's to eat in your car while you're reading. Sometimes it is hard to get up off that couch and go for a run in the cold. Sometimes, its hard to say no to pizza. Am I right?
And even though the scale didn't budge in the way I wanted this week, I learned a valuable lesson:
It isn't just about the number on the scale.
Above is my three week progress, and I can definitely see a difference in my stomach. Its encouraging to know that my body is changing, and hopefully I continue to replace fat with muscle. I am participating in Kym from
Travel Babbles
Diet Bet, and I have til this Friday to lose the remaining few pounds.
This next week, I am going to go on a pretty strict cleanse consisting mostly of fruits and vegetables, and I am also going to allow myself egg whites with veggies in the mornings and grilled chicken breast in the evening. I want to get those last few pounds off so I can make back that $25 dollar bet I put into the Diet Bet! This week I also am going to go heavy on the cardio and try and run every day.
Wish me luck girls! I am determined to make this week better than last week! How is your journey going? I want to hear how you're doing, and what is working for you!
This link-up will happen
every Monday
, but it is absolutely not necessary that you join in every single week (although we'd love to have you!) Get Fit, Feel Confident, Be Healthy is all about ANYTHING having to do with your journey to a more fit, fabulous, and healthy you in 2014!
This can be:
Your goals
A recaps of how you did the week before
Your new favorite workout songs
A salad you made for dinner that was healthy and delicious
Something you struggled with last week
Ways you've been able to successfully relieve stress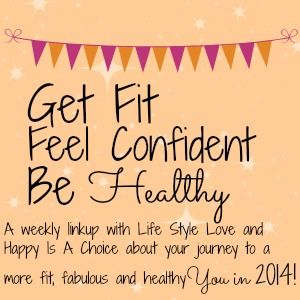 Will you please join in the fun with us?! Here's what you need to do:
1. Follow us on Bloglovin (Brittany and Sam) or GFC. Leave us a comment letting us know so that we can follow you back!
2. Write your Get Fit, Feel Confident, Be Healthy post on Monday. Link-up at one of our blogs!
3. Grab a button (above) and link back to our blogs in your post.
4. Meet new friends who are on a similar journey as you! One of the best parts of this link-up will be meeting other ladies who are sharing their ideas and stories so make sure you check out the other fit+fab women who are linking up!
Use the hashtag #getfitandfab - tag us on instagram and twitter so we can follow you on your journey!
Instagram: @brittmrasmussen and @samanthamarie_8
Twitter: @brit_rasmussen and @samanthamarie_8